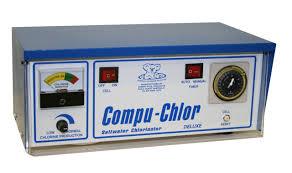 Compupool
Universal Salt Chlorinator Power Supply | Non Reversing Models Only | 15-20 g/hr
Overview:
This generic Power Pack easily replaces your existing chlorinator power supply.  It can be used with any brand standard cell. If your chlorinator box is burnt out, timer not working just worn out, this way you can still use your good cell. It comes with a time clock, meter and chlorine controller. 
This unit will do cells up to 20 g/hr or approximate pools up to 60,000 Litres.  If larger please 
This unit is not compatible with reverse polarity (self cleaning) cells.
To connect the cell, simply cut off your cell cable where it goes into your current chlorinator power supply, bare back the wires and connect to the terminal box located under the new power supply.
Features:
Weather Protected Powder Coated Power Supply
Easy to set Heavy Duty Time Clock
Fully automatic operation – even when the owner is away
reliable and durable for long lasting performance

1 Year Warranty on power module
---
More from this collection