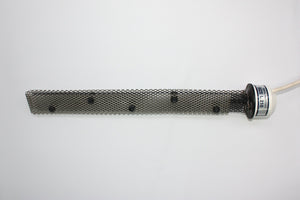 Compupool
Replacement Chlorinator Cell Compu Chlor L210 | 6-Year Warranty
Overview:
This unit is manufactured by Compu Pool Products and is compatible with Compu Chlor L210 salt water chlorinator systems. This genuine cell is rated for a chlorine production of 15 grams per hour and comes with an industry leading 6 year limited warranty!
Features:
• Replacement for Compu Chlor L210
• Grams per hour: 20
• Number of plates: 3
• Plate length: 480mm
• No need for re-plumbing, direct fitting part
• Long life titanium plates
• 6 year limited warranty
Product Highlights:
  Free Shipping - All cells are shipped for free to any location in Australia.
No Tools Required - All our cells are plug & play that simply install into the existing plumbing with no cutting or gluing required.
  High Performance Electrodes - Compu Pool cells all use high performance long life Titanium electrodes with a specially formulated precious metal coating.
  Eco Friendly - Salt cell pools require less chemicals and eliminate the need for liquid chlorine.
  6 Year Warranty - All Compu Pool cells carry an industry leading 6 year limited warranty.
---
More from this collection