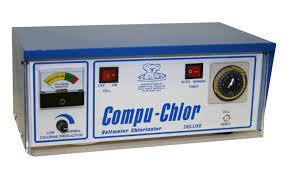 Compupool
Compu Chlor A300 Salt Water Chlorinator | Self Cleaning Model | Power Pack Only
Overview:
The Compu-Chlor is a high-performance standard cleaning salt chlorination system that lets you enjoy crystal-clear pool water without harsh chemicals. It is efficient, durable and extremely reliable even in the harshest of conditions.
Incorporating high flow, long life electrodes with a robust heavy duty power supply, the Compu-Chlor Chlorinator is built to provide many years of trouble free service for your swimming pool. Utilising the highest quality materials available, the system is complete with resilient powder coated cabinet and UV resistant Cell Electrode Housing.
Self cleaning A300 Power Pack (30 g/hr).  
Features:
Reverse polarity (self cleaning model)
5500-6000 P.P.M salt required
Large High Flow Rate Cell Housing
Heavy Duty Electrolytic Cell
Weather Protected Powder Coated Power Supply
Easy to set Heavy Duty Time Clock
Fully automatic operation – even when the owner is away
reliable and durable for long lasting performance

1 Year Warranty on power module
---
More from this collection